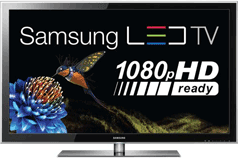 Samsung UE46B8000 46" LED TV
Looking for a state of the art LED TV then the stunning new Samsung UE46B8000 LED TV is the one for you. The UE46B8000 would instantly become the centre point of your living room with its elegant beauty and slimline design. The revolutionary UE46B8000 benefits from superb innovative features as well as breathtaking images and sound.

This Samsung LED TV is ideal for watching fast paced action movies and sports with superb clarity. The Samsung UE46B8000 LED TV benefits from 200 Hz Motion Plus Technology that displays visuals of an unbelievible 200 frames per second. With numerous connections including 2 USB ports, 4 HDMI and 1 component connection, you are able to hook up a number of external devices to your HD TV with ease.

The Samsung UE46B8000 46" 1080p LED TV has full 1080p HD LED technology with an ultra clear panel for unparalleled contrast ratio. This delivers rich fluid pictures in fantastic detail and colour. The Samsung UE46B8000 has an ultra slim design of just 29.9mm thick meaning that it is currently the slimmest TV available on the market today. The Samsung UE46B8000 46" 1080p LED TV is supported by an integrated digital TV tuner. It also comes with SRS TruSurround HD sound which will blow you away by it'scinematic style audio.

The Samsung UE46B8000 46" TV also comes with Media@2.0 making it extremely versatile and capable of streaming movies, images and music wirelessly throughout your home. The content library of the UE46B8000 comes with games, recipes and other useful content all pre-installed enabling you to access small web applications through the Internet@TV feature. If you like your movies then the Samsung UE46B8000 comes with USB 2.0 movie for direct playback of films and other media content directly through your TV from a USB device.
UE46B8000 - Samsung 46" LED UK Prices


---
Samsung UE46B8000 46" LED TV
The Samsung UE46B8000 LED TV includes all the hardware such as the analog and digtal tuners in the TV as opposed to containing them externally. Trusted Reviews gave the UE46B8000 a fantastic review, giving it 10 out of 10 for picture quality and 9 out of ten overall. The Samsung UE46B8000 does a great job with colours and the range, naturalism and subtlety of its colour palette is far superior to that of most LCD HDTVs. The Samsung UE46B8000 LED TV has perfect, stripe-free colour blends and consistent skin tones. The images actually seem to back up the suggestions that edge-based LED lighting is potentially a superior picture quality technology to direct RGB LED lighting.

Also available from Samsung model UE40B8000
Samsung LED TV | Led TV | Samsung 40" LED | Samsung 46" LED | Samsung 55" LED | Samsung UE40B7020W | Samsung UE46B7020W | Samsung UE55B7020W | Samsung UE40B8000 | Samsung UE46B8000
Sharp Aquos LC32LE600E | Sharp Aquos LC32LE700E | Sharp Aquos LC40LE600E | Sharp Aquos LC40LE700E