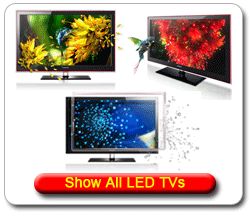 What is LED TV?
LED TV is here. Take the new range of Samsung LED TVs - the 7 series. Unlike other "slim" televisions, LED 7000 is one of the slimmest television in the world. Instead of multiple parts molded together, it's one solid, seamless, incredibly beautiful advanced television. Elegantly supported by a unique crystal neck. You'll have no trouble finding a place for it in any room.

Led tv is also super-slim and super-light making it ideal for wall mounting using samsung's innovative new wall mounting solution. And like the 7 series tvs, samsung's new wall mount is extremely slim, meaning that when mounted the tv screen sits only 2 inches from the wall. Installation is easy with only one person required to wall mount the tv using a minimal number of screws and fixings.

The 7 series Samsung tv can be lifted away from the wall at the base and held using the flip-out to enable easy access to connection points. Lower power consumption. Led tvs also use less power than conventional lcd tvs. This is because lcd tvs have backlights which need to be illuminated constantly while led lights are only illuminated when needed. Samsung led tvs are mercury-free, offering a significant benefit to the environment. LED tv is currently being backed by a huge tv advertising campaign in the uk. Viewers are instructed to simply search for "samsung led". Clearly, samsung is trying to create some buzz around its new led tvs, and it's working.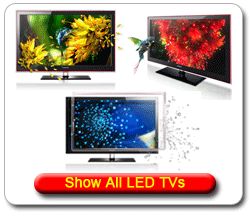 More About LED TV
LED TVs are new to the global TV market. A number of great new Samsung LED TV sets will be available from May 2009 in the UK The difference between LED and LCD TVs is that LED TVs use Light Emitting Diode (LED) backlights instead of the standard Cold Cathode Fluorescent Lamps used the majority of most LCD televisions. LED TVs mean that the manufacturer to build slimmer housings making current LED TVs available in the market in some cases less than two inches thick.

The longer life and improved reliability of LED TVs increase of using multiple LEDs in signs is one reason they are increasingly being used in road traffic lights. LED TVs are said to produce deeper blacks and a higher overall colour saturation. This is because flourescent bulbs (conventional) have a smaller optical frequency output range. LED TVs that use what is known as "edge-lighting" can be very thin compared to even the thinest LCD or Plasma.

LED TVs are also slightly more environmentally friendly than plasmas and conventional LCD TVs in that they use less power and their manufacture does not use mercury. In general, the advantages of LEDs over LCD and conventional TV is that they are small, lower in power requirements, produce very little heat, and are sometimes used in groups such that if one LED burns out, the remaining LEDs will still produce light.

LED TV sets, unlike LCD, use LED to produce the backlight for the image which is still displayed on a conventional LCD. Without this backlight, the digitally-created LCD image would produce little or no light of its own. The LEDs in this case are placed along the outer edge of the LCD, projecting the light inwards without adding to the width of the screen. A light source on the outer rim of the LED TV makes it possible to regain space normally taken up by much larger fluorescent lighting.

---
Samsung LED TV | Led TV | Samsung 40" LED | Samsung 46" LED | Samsung 55" LED | Samsung UE40B7020W | Samsung UE46B7020W | Samsung UE55B7020W | Samsung UE40B8000 | Samsung UE46B8000
Sharp Aquos LC32LE600E | Sharp Aquos LC32LE700E | Sharp Aquos LC40LE600E | Sharp Aquos LC40LE700E