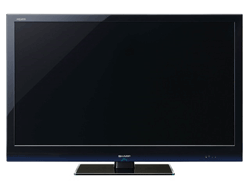 Sharp Aquos LED TV
The breakthrough of Sharp's LE700 Aquos LED Backlit LCD TVs deliver superb brightness and picture quality combined with the TV industry's lowest energy consumption not to mention fantastic value for money.

Sharp worldwide unleashes Aquos LED, an LCD TV series that delivers the ultimate in picture quality and value. The Sharp Aquos LED offers consumers the lowest energy consumption of any modern LCD TV. This breathtaking new series of TVs combine Sharp's award-winning Aquos LCD technology with a Full-Array LED backlight system.

The new Aquos LE700 LED TV series delivers unprecedented image quality and energy-efficient, eco-friendly performance. This Full-HD 1080p LCD TV series introduces a newly-developed X-Gen Panel with advanced pixel control for extremely deep black levels with rich vibrant colours.
Compare Prices for Sharp Aquos LC32LE700E


---
Sharp Aquos LC32LE700E LED TV
The stunning new Sharp Aquos LC32LE700E Full Screen LED backlit TV has hundreds of LEDs arranged in rows to cover the complete screen, from corner to corner. The colours are much brighter and vibrant with deeper blacks resulting in finer detail in darker scenes. The new X-GEN panel of the Sharp Aquos LC32LE700E LED TV with its wider pixel aperture design delivers visually brighter pictures whilst the Brilliant Colour Processor helps the exact expression of colours.

The Sharp Aquos LC32LE700E LED TV also features 100Hz technology and a high-speed 4 millisecond response rate to reduce blurring and recreate true to life flowing imagery. The Aquos LC32LE700E comes complete with USB input for JPEG or MP3 playback and 4 HDMI inputs for really easy multimedia connectivity.
Sharp Aquos LC32LE700E LED TV
The 32-inch LCD panel of the Sharp Aquos LC32LE700E is exceptionally bright at 450 cd/m2, thanks to the use of it's LED backlight. This vastly improves the picture as well as reducing energy consumption by up to 40% compared to standard LCD televisions.

The Sharp Aquos LC32LE700E LED TV has a native contrast ratio of 4,000:1 with it's dynamic figure rising to an amazing 2,000,000:1. The Sharp Aquos LC32LE700E LED TV is also perfect for fast moving sports or actions movies with it offering an extremely rapid pixel-response time of just 4 ms with a 100Hz refresh rate for fantastically smooth motion.


The stunning Sharp LC32LE700E employs the latest up to date technology offering you a fabulous picture quality at a fantastic price. The LC32LE700E boasts an LED backlight, a 100 Hz refresh rate and an X-Gen LCD panel. The Sharp LC32LE700E 32" LED TV with 100Hz can easily be wall-mounted and has a handy USB port for viewing your digital photos on the flatscreen display! This Full HD 1080p television is a cinematic delight and includes a digital tuner, opening up the world of Freeview for your enjoyment. Why not invest in the Sharp LC32LE700E LED TV for that first-class television of the future?
Sharp Aquos LC32LE700E Specification Overview
* Sharp 32 Inch HD Ready 1080P LED TV
* HD Ready - Yes
* Display Format - 1080P
* Resolution - 1920 x 1080
* Dynamic Contrast Ratio - Mega Contrast
* Brightness - 450 cd/m2
* Image Aspect Ratio - 16:9
* Backlight system - Full LED
* Integrated Freeview - Yes
* 100Hz - Yes
* Response Time - 3ms
* Viewing Angle - 176 / 176 degrees
* Deflecting Panel - Crystal Clear
* Picture and text / Freeze - Yes
* EPG - 8 Days
* Teletext - 2000 pages
* Sound System - Dolby Digital plus
* Audio Output - 2 x 10W
* Warranty - 1 year Manufacturers Warranty

Sharp Aquos LC32LE700E Connectivity
* 1 x PC Input
* 2 x SCART
* 4 x HDMI
* 1 x Component
* 1 x Composite
* 1 x S-Video
* 1 x USB
* 1 x Digital Audio (Optical)
* 1 x CI Card Slot
* 1 x RF

Wall Mounting:

* Wall Mountable - Yes
* See Recommended Accessories for suitable brackets

Dimensions:

* Set Size (WXDXH) with Stand - 767 x 240 x 554 mm
* Set Size (WXDXH) without Stand - 767 x 91.9 x 502 mm
* Set Weight with Stand - 13.5 kg
* Set weight without stand - 10.5 kg

---
Samsung LED TV | Led TV | Samsung 40" LED | Samsung 46" LED | Samsung 55" LED | Samsung UE40B7020W | Samsung UE46B7020W | Samsung UE55B7020W | Samsung UE40B8000 | Samsung UE46B8000
Sharp Aquos LC32LE600E | Sharp Aquos LC32LE700E | Sharp Aquos LC40LE600E | Sharp Aquos LC40LE700E