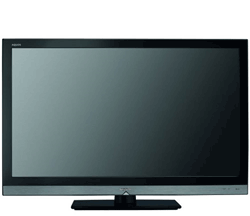 Sharp Aquos LED TV
The Breakthrough of Sharp's new line of LED Backlit LCD TVs bring you superb brightness and picture quality combined with the TV industry's lowest energy consumption with fantastic value for money.

Sharp for the first time worldwide unleashes Aquos LED, an LCD TV series that delivers the ultimate in picture quality and value. The Sharp Aquos LED offers consumers the lowest power usage of any modern LCD TV. This breathtaking new series of TVs combine Sharp's award-winning Aquos LCD technology with a Full-Array LED backlight system.

The new LE600 Aquos LED TV series delivers unprecedented image quality and energy-efficient, eco-friendly performance. This Full-HD 1080p LCD TV series introduces a newly-developed X-Gen Panel with advanced pixel control for extremely deep black levels with rich vibrant colours.
Compare Prices for Sharp LC40LE600E LED TV


---
Sharp Aquos LC40LE600E LED TV
The Sharp Aquos LC40LE600E LED TV comes HD ready with 1080 pixels, this superb LED TV gives you a useful TV and HD Combo along with an AQUOS full screen LED backlight. The LC40LE600E is equipped with ultra bright LEDs with a new X-GEN panel and fantastic colour processor. The X-Gen panel with it's high native contrast makes pictures and movies look as realistic as possible. It's Eco features make the LC40LE600E LED TV environmently friendly and will help you to reduce power consumption and is is also mercury free.
Sharp Aquos LC40LE600E LED TV
The Sharp Aquos LC40LE600E LED TV offers mega contrast and Crystal-clear Technology and it's brilliant colour processor and Dolby Digital Plus Surround Sound are guaranteed to blow you away. This environmently friendly LED TV uses 40% less power than a traditional LCD TV and has many more eco friendly features that make it a great purchase. The LC40LE600E LED TV has 3 HDMI inputs and a resolution of 1920X1080 pixels with a diagonal visible screen size of 102cm and a widescreen format ratio of 16:9. Featuring a full backlight LED system, it also has a digital comb filter.
The Sharp LC40LE600E LED TV also features a card slot, a sleep timer, a desktop stand and a viewing angle of H:176/V:176 degrees. This Sharp Aquos TV is practical and reliable is your perfect way to that all-time viewing experience. The LC40LE600E is simple to operate and very high on performance with astounding rich vibrant colours and deeper blacks. With the Sharp LC40LE600E using 40% less energy than your standard LCD televisions it comes more pocket-friendly as far as energy costs are concerned. The DVB and Freeview Technology features of the LC40LE600E give you audio from Dolby Digital Plus while it has an integrated 2-speaker system. Accessories that come with the LC40LE600E are a desktop stand, remote control with batteries, AC cable, cable clamp, operation manual and a warranty card.
Sharp Aquos LC40LE600E LED TV Features
Specification Overview:

* Sharp 40 Inch HD Ready 1080P LED TV
* HD Ready - Yes
* Display Format - 1080P
* Resolution - 1920 x 1080
* Dynamic Contrast Ratio - Mega Contrast
* Brightness - 450 cd/m2
* Image Aspect Ratio - 16:9
* Backlight system - Full LED
* Integrated Freeview - Yes
* Viewing Angle - 176 / 176 degrees
* Deflecting Panel - Crystal Clear
* Picture and text / Freeze - Yes
* EPG - 8 Days
* Teletext - 500 pages
* Sound System - Dolby Digital plus
* Audio Output - 2 x 10W
* Warranty - 1 year Manufacturers Warranty

Connectivity:

* 1 x PC Input
* 1 x SCART
* 4 x HDMI
* 1 x Component
* 1 x Composite
* 1 x S-Video
* 1 x USB
* 1 x Digital Audio (Optical)
* 1 x CI Card Slot
* 1 x RF

Wall Mounting:

* Wall Mountable - Yes
* See Recommended Accessories for suitable brackets

Dimensions:

* Set Size (WXDXH) with Stand - 964 x 309 x 664 mm
* Set Size (WXDXH) without Stand - 964 x 93.1 x 612 mm
* Set Weight with Stand - 15.4 kg
* Set weight without stand - 12.3 kg

---
Samsung LED TV | Led TV | Samsung 40" LED | Samsung 46" LED | Samsung 55" LED | Samsung UE40B7020W | Samsung UE46B7020W | Samsung UE55B7020W | Samsung UE40B8000 | Samsung UE46B8000
Sharp Aquos LC32LE600E | Sharp Aquos LC32LE700E | Sharp Aquos LC40LE600E | Sharp Aquos LC40LE700E