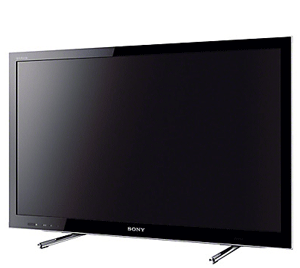 Sony KDL40HX753 LED TV
Prepare for the most immersive 3D experience with breathtaking picture quality and gripping 2D viewing with this stunning new Sony Smart TV. With the Sony KDL40HX753 LED TV stream a world of online entertainment, apps and services to a it's high contrast LED screen.

Wirelessly access online entertainment

Use either the Sony LED TV remote control or mobile device to access to the Sony Entertainment Network for streaming HD movies, millions of songs, your favourite TV channels, a web browser and apps like Twitter, Facebook, YouTube, Skype and much more.

Make 2D HD & 3D pictures sharper

Whether you're watching online TV, a favourite DVD or a home movie, everything gets clearer and closer to HD with X-Reality with the Sony KDL40HX753 LED TV. Sony have also made 3D crisp and natural thanks to 4x High Speed 3D Panel, with each frame on the LED screen adjusted for optimum lighting and contrast.
Compare Prices for Sony KDL40HX753 LED TV


---
Enjoy a new airy design

This design of the Sony KDL40HX753 LED TV combines contrasting materials and seamless edges. Be amazed by the lightness of the Sony KDL40HX753 LED TV with it's Easel Stand that you can twist vertically and horizontally to give you the perfect viewing angle.

Energy-saving TV features

The new LED Frame dimming feature of the Sony KDL40HX753 LED TV helps to reduce the amount of energy consumed by intelligently adjusting backlight levels to suit the scene. You can enjoy sharp, high contrast TV pictures with low power consumption - notice the difference on your electric bill.

Life in your living room is about to get more entertaining with the Sony KDL40HX753 LED TV.
Sony KDL40HX753 LED TV Features;
See every detail with Full HD 2D and 3D - Get totally immersed in the action with smooth, highly detailed 2D and 3D Full High Definition viewing.
Natural colours and clear, detailed pictures - See crisp detail with no degradation or noise, even for Standard Definition pictures, with the X-Reality picture engine.
Ultra-smooth action with 4x High Speed 3D Panel - When you're watching any 3D content, enjoy a smooth, high quality picture with minimised blurring and cross-talk.
Watch comfortably with Auto 3D Depth Adjustment - Watch for hours with more relaxed 3D viewing and less eye strain.
Smooth action scenes with Motionflow XR 400Hz - Follow the action at the equivalent of 400 frames a second and catch every detail as it happens.
Dynamic Edge LED with Frame Dimming - Get a high quality picture with improved contrast in an LED screen that uses less power.
Built-in Wi-Fi to easily connect to the Internet - Stream entertainment from your wireless home network and the Internet without the clutter of cables.
Easily connect to the web on your TV - Stream full-screen movies, music, Internet videos, apps, and access social networks on the Sony Entertainment Network.
Ready for video and voice calls with Skype™ - Add a voice control camera and microphone and make free Skype™ calls to friends and family from the comfort of your sofa.
Surf the web through your TV - Go online to browse text and picture-based Internet pages through your TV.
Use your smartphone as a remote control - Download the Media Remote app and use your iPhone, Android™ phone or tablet as a remote control or mouse for browsing the web.
Connect directly to other Wi-Fi devices - Your TV can connect directly to other Wi-Fi Direct devices without cables, routers or complicated settings.
Record TV shows to an external hard drive - Save TV programmes to a Hard Disk Drive via USB and watch them back when it suits you – even pause live TV, or record a series.
Share movies & music from your PC & other devices - Stream movies, music and photos to your TV from a PC or MP3 player – or send photos and videos from your smartphone to your TV.
Find details about a TV soundtrack - Like a song on the TV programme you're watching? Press TRACK ID and get the full song details, then link the search to Twitter.
Get full details about a movie you're watching - Find out detailed information about your favourite movies or TV shows and link it to video on demand and USB recording.
Get benefits and exclusive offers with My Sony - Register your BRAVIA TV and become a My Sony member for exclusive access to tutorials, special offers and more.
Built-in access to Freeview HD - Access digital HD channels with a built-in Freeview HD TV tuner (DVB-T2): no need for a set-top box or extra cables.

Sony KDL40HX753 LED TV Dimensions;
TV without table-top stand (W x H x D cm);
94.3 x 57.8 x 5.9 (4.61)

TV with table-top stand (W x H x D cm);
94.3 x 59.6 x 24.1

Box dimensions (W x H x D cm);
129.4 x 67.4 x 15.0
---