LG 42LM620T 3D LED TV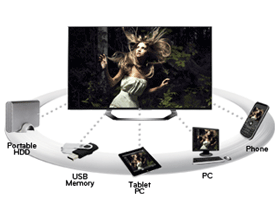 The award winning LG 42LM620T LED TV offers simple access to a limitless world of entertainment, enjoy catch up TV from BBC iPlayer, movies from LoveFilm and Netflix, TV shows, games and much more. This amazing LG LED TV from LG will make entertaining the family easier than ever with it's Magic Remote Control

Home Dashboard

With the LG 42LM620T LED TV getting lost in endless SMART TV sub-menus is a thing of the past with it's Home Dashboard. Easy to navigate and with endless customisation options, the Home Dashboard feature of the LG 42LM620T LED TV will allow you spend less time tweaking settings and more time enjoying your TV.

Smart Share

Share music, videos and photos stored on your desktop PC, laptop or smartphone with the Smart Share feature of the LG 42LM620T LED TV. Either connect your LG LED TV to your device via USB or DLNA - a file compatibility standard designed to ease the frustration of incompatible media files.
Compare Prices for LG 42LM620T 3D Smart TV


---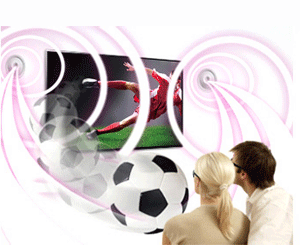 Magic Remote Wheel

Scrolling up and down a screen is second nature to PC users but with the Magic Remote's new wheel functionality, you can do the same on your TV screen. Scroll, zoom and do anything you can do with your computer's mouse on your LG 42LM620T LED TV.

Social Center

Take control of your Twitter and Facebook accounts without even firing up your laptop. LG's Social Center app lets you chat with friends and followers direct from your LG LED TV. No computer or smartphone required.

3D Sound Zooming

Great 3D TV needs great 3D sound and 3D Sound Zooming synchs with the 3D visuals onscreen to provide the last word in sonic excellence.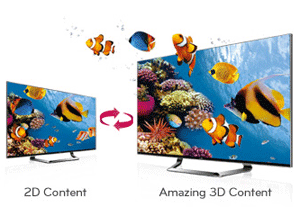 Cinema 3D

THE ONLY WAY TO ENJOY 3D TV AT HOME

CINEMA 3D TV technology makes LG 3D glasses* the pick of the bunch in terms of comfort, light weight and affordability, bringing home movie viewing to a whole new level.

* (4 x 3D Glasses, 1 x Clip-on Glasses included)

2D to 3D Conversion

LG's next-generation 2D to 3D upscaling technology turns standard 2D broadcasts into incredible 3D programming at the touch of a button. You've got no excuse to take off your glasses with a LG 42LM620T LED TV!

Flicker-Free 3D TV

All LG CINEMA 3D TVs are certified flicker-free, meaning more comfortable viewing, less stress on your eyes and a sensational, blur-free 3D TV experience.

3D TV Depth Control

Customise the depth of your 3D TV to suit what your watching. Or even your mood. Watch in ultimate comfort, or dial up the 3D effect for maximum wow factor.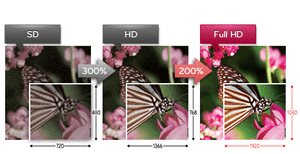 Dual Play

FROM SPLIT-SCREEN TO FULL SCREEN GAMING

Split-screen gaming is great but imagine being able to play a two-player game in full screen all on the same TV. This LG CINEMA 3D TV, Dual Play lets each player see the game from their own perspective without halving the screen size. *Dual Play glasses sold separately

FULL HD TV

FULL HD 1080p provides the pinnacle of picture resolution with incredible clarity and vibrant colours. With up to five times the resolution compared to standard definition TVs and twice that of 'HD-Ready' TVs, FULL HD 1080p is the only way to enjoy the full potential of Blu-ray and HD gaming.

An Eco-Friendly Revolution

The LG 42LM620T LED TV with Class A+ Energy rating makes it one of the best-in-class TV's available. This means you can save money off your electricity bills with an LG Smart LED TV and help reduce energy consumption at the same time.

Smart Energy Saving

Smart Energy Saving technology controls the brightness of the LG 42LM620T LED TV to reduce it's power consumption thus helping you save money off your bills. The Screen-Off function even lets you listen to music from the LG Smart LED TV whilst it's screen is off
LG 42LM620T LED TV Product Features
Screen resolution: 1080p Full HD Internet Capability: Yes 3D Capability: Yes Frame rate: 400Hz HDMI connections: 4

LG 42" Full HD 1080p 3D TV with LED Technology
Built-in Digital Freeview HD ensures that you are ready for the digital switch-over with access to over 40 TV and radio channels
Cinema 3D TV - Bringing a flicker-free 3D experience direct to your home
Smart TV is your gateway to a world of web-based apps – from services such as BBC iPlayer, streaming films on demand and social networking
LG's cutting edge motion processing and Motion Clarity Index of 400 for clear, smooth 3D and 2D picture quality
LG 42LM620T LED TV Technical Details
Display
Screen size (in.)42
Resolution: 1920 x 1080
Cinema 3D: Yes
Motion Clarity Index: 400Hz
3D Specification
3D type: FPR (CINEMA 3D)
Format: S/S, T/B, C/B, F/S
2D to 3D: Yes
3D to 2D: Yes
2D to 3D Depth control: 0~+20 (default : 10)
2D to 3D Viewpoint control: -10~+10 (default : 0)
2D to 3D Mode: 5 modes (Standard, Manual, Cinema, Sport, Extreme)
3D Depth Control: Yes
3D Viewpoint control: -10~+10 (default : 0)
3D Image Correction : Yes
Format Auto Detection: Yes
3D Sound Zooming: Yes
Dual Play: Yes
Video
Triple XD Engine: Yes
Aspect Ratio Correction: 8 Modes (16:9/Just Scan/Original/Full Wide/4:3/14:9/Zoom/Cinema Zoom1)
Resolution Upscaler (Basic/Plus): Yes (Basic)
Smart Colour Gradation: Yes
AV Mode: Game/ Cinema / Off
Picture Mode: 7 modes (Intelligent sensor, Vivid, Standard, Cinema, Game, isf Expert1, isf Expert2)
Picture Wizard : Picture Wizard II
Audio
Mono/Stereo/Dual (MTS/SAP): Yes
Audio Output: 10W + 10W
Speaker System: 1 Way 2 Speakers
Dolby Digital Decoder: Dolby MS10
Surround System: Infinite Surround
Sound Status Mode: 7 modes (Standard/Music/Cinema/Sport/Game/ Vivid/User Setting)
Sound Optimizer: 3 modes (Normal, Wall-Mount Type, Stand Type)
Mute: Yes
Clear Voice: Yes (Clear Voice 2)
DVR
DVR Type I (B/I, Ready) : Yes (Ready)
DVR Type (Digital / Analog): Digital
Watch & Recording: Yes
Time Shift Signal: Yes
USB
USB Version: v2.0
USB Hub: Ready
Moving Picture Playback (SD/HD/Plus HD): DivX HD
JPEG: Yes
Audio Codec: AC3(Dolby Digital), EAC3,HAAC,AAC, Mpeg, MP3, PCM, DTS
Special Features
Camera (Ready/Built-in): Yes - (Ready)
Intelligent Sensor: Yes
EPG(SI): Yes
Quick View: Yes
Input Labeling: Yes
E-Manual: Yes
E-Streamer: Yes
Key Lock: Yes
Jack Pack (Side)
USB 2.0: 3 - Available for USB Hub
HDMI1.4: 4
CI slot: 1
Jack Pack (Rear)
RF In: 2 (T/C, S2) or 1 (T2/C)
AV In: 1
Full Scart: 1
Component in (Y,Pb,Pr) + Audio: 1
Digital Audio Out (Coaxial/ Optical): 1(Optical)
RGB In (D-sub 15pin) - PC: 1
PC Audio Input: 1
LAN (For Modem): 1
Headphone out: 1
Cabinet Description
Swivel (angle): Yes
VESA Compatible: Yes
Convenience
Smart TV: Yes
Connectivity:
Wi-Fi Ready / Built-in: Yes - (Ready)
WiFi Direct: Yes
Network File Browser: Yes
DLNA (Movie / Photo / Music): DLNA Certified
WiFi Display: Yes
WiDi: Yes
Simplink (HDMI CEC): Yes
Power
Voltage, Hz: 100V ~ 240V, 50/60Hz
Dimensions - WxHxD (mm)
SET (w/o stand) (mm): 746 x 462 x 35.5
Including stand (mm): 746 x 528 x 204
VESA Dimensions (mm): 200 x 200
Weight (Kg)
SET (w/o stand kg): 8.5
Including stand (kg): 10.2
Accessory
3D Glasses: 3D Glasses included - 4 (4 x 3D Glasses)
Eco
ErP Class: Class A
On Power Consumption (IEC62087 Edition 2) (W): 41.0
Stand By (W): 0.30
Luminance Ratio (%): 65
Mercury Content (mg): 0.0
---